Monthly Heritage Events
The Historical Society is planning regular events celebrating Waiheke's and New Zealand's heritage and crafts. These will normally occur on the first Sunday of every month starting at 12 noon. Here are the next few:
3 Sept 2023: Rug making, with Kate Bryant
1 Oct 2023: New Zealand folk songs with The Wellermen (Alan Knight and Tom French)
8 Oct 2023 from 2 to 4:30PM (special): Tanya Batt, stories and film
5 Nov 2023: Spinning and weaving, with Cheryl Lyall (see notice at right)
10 Dec 2023: Christmas wreath making
Jan 2024 (date TBA): Butter churning
Feb 2024 (date TBA): Picnic with live music
Ideas for future events are welcome. Got something you'd like to show off? Talk to us!
---
Republication of Waiheke Pioneers
Dixie Day's book Waiheke Pioneers, the standard reference for early European settlement on Waiheke, had been out of print for five years, but we have published a second, revised edition complete with full name index. You can purchase the book at the Museum or at retail stores around the island, or order it online.
---
Re-gravelling of pathways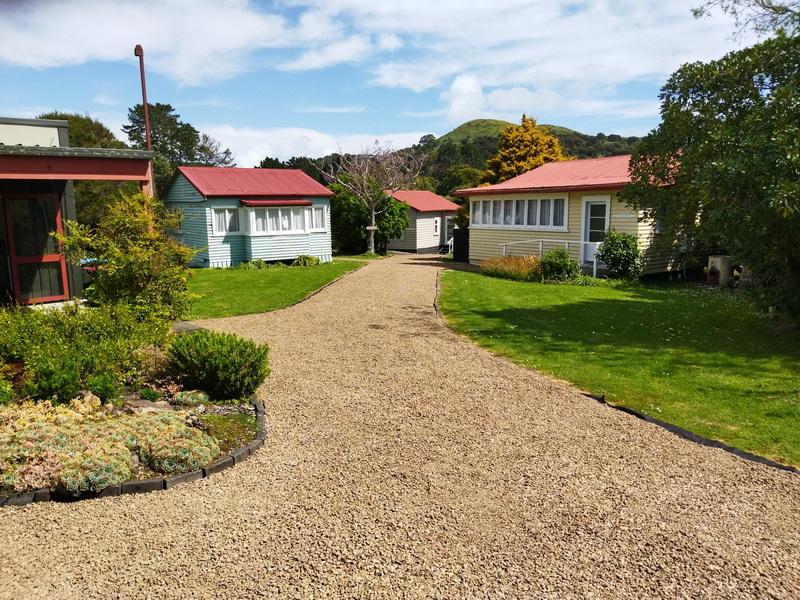 The Museum has re-gravelled the footpaths linking our buildings, which had become weed-choked and slippery during our long spell of wet weather. Thanks are due to Auckland Council's office of Parks and Community Facilities, who supplied and spread the gravel.
---
We're featured on the Sealink Roadtrip
Our Museum is featured on Sealink's Art & Culture Roadtrip. Have a look!
---
The History Quiz
That's right — a trivia quiz with no science, no rugby, no Hollywood! We plan on making it a regular event for the Historical Society. Members and non-members welcome.
---
Wharf2Wharf Fun Run
Saturday, 14 March 2020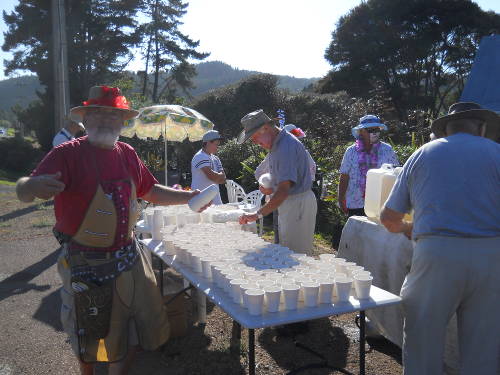 Once again, our Museum provided water to passing runners. Sadly, the races were cancelled in 2021, 2022, and 2023, but are on for 21 January 2024. Come join us next year!
---
Members' section
Annual General Meeting
was held on Sunday, 30 April 2023, at 2PM at the Museum. This was a celebration of the 50th anniversary of the Historical Society, and the 40th of our Museum. A birthday cake was enjoyed!
(Read the minutes.)
New members are always welcome!

---
For history buffs
and researchers
Waiheke Vintage & Historic Photos
Peter Young's Facebook page on Waiheke history
Early History of Waiheke Island
A missionary on Waiheke Island in 1849
A visit to Waiheke Island in 1858
Surfdale memories from the 1940s
The Waiheke Fun-Map (1948)
The 1922 subdivision of the Matiatia-Oneroa Estate

Under construction...
The following are coming soon:
Directory of Waiheke residents in 1948
---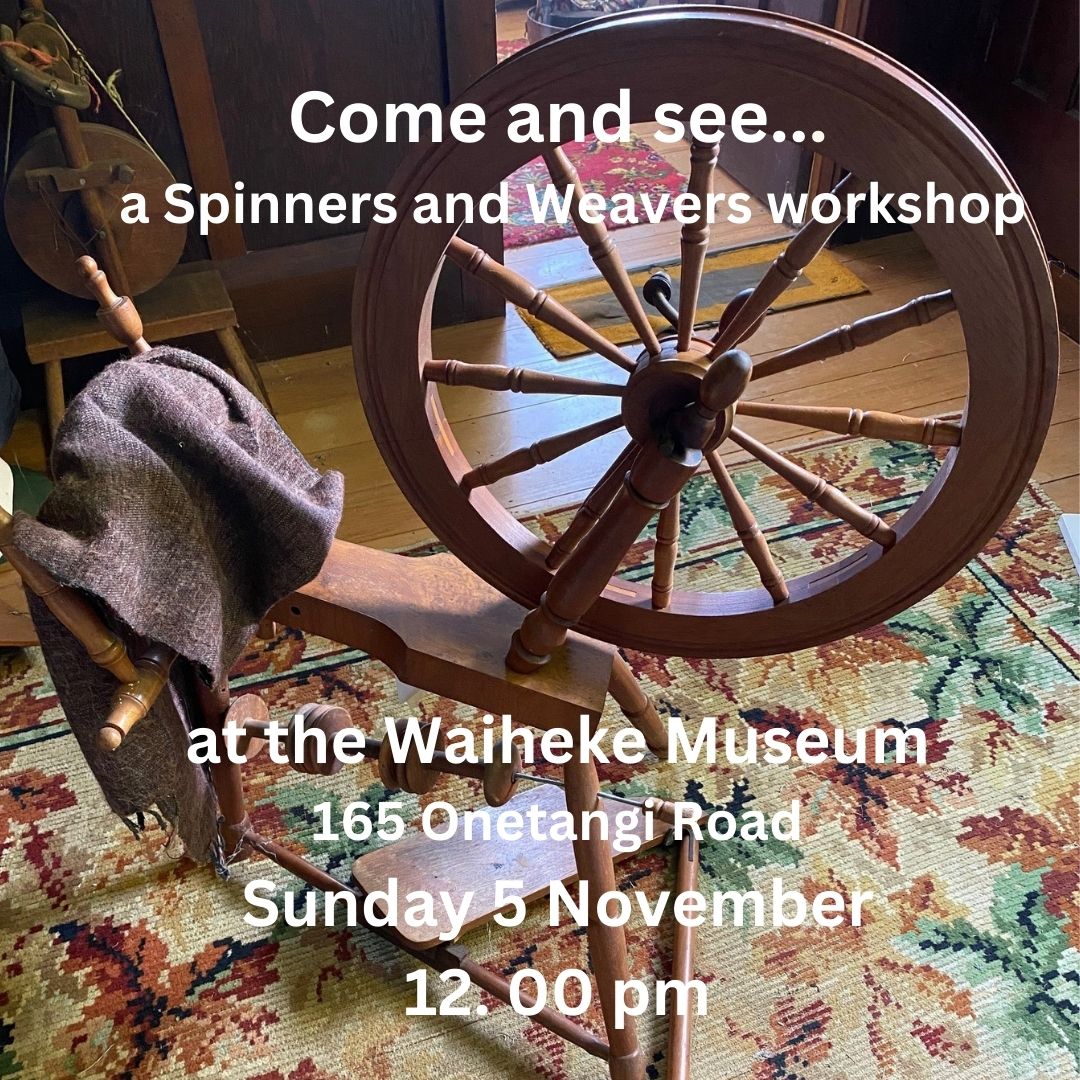 ---
The Museum of Waiheke
and Historic Village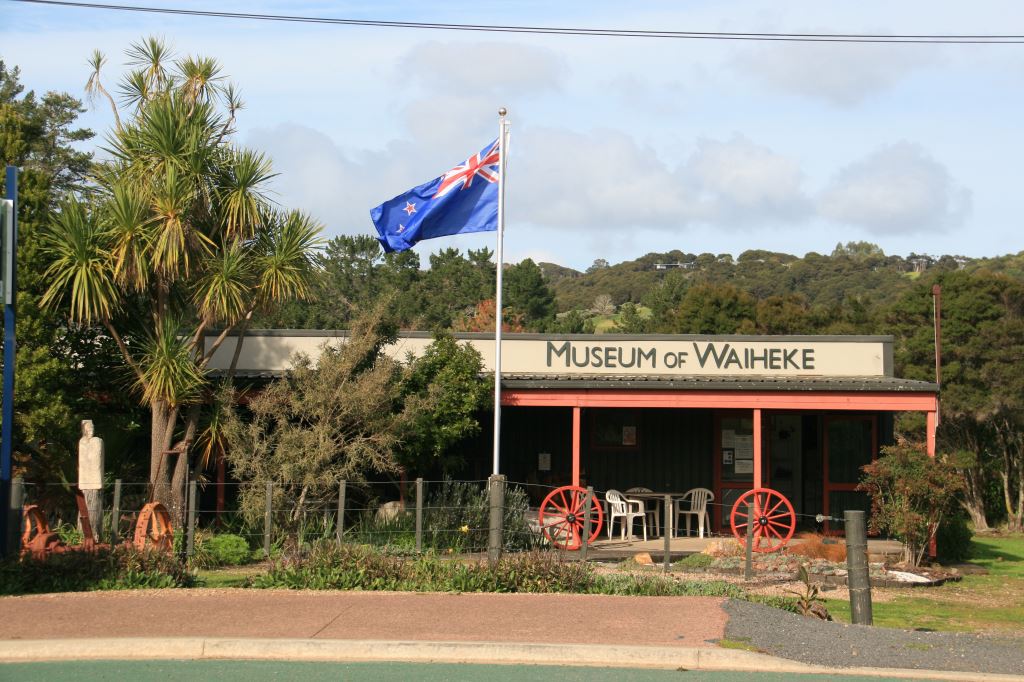 Experience a slice of Old Waiheke at the Waiheke Museum and Historic Village.
A reconstructed woolshed housing the Museum's main exhibits
A 1930s-style island cottage (Day Cottage) that can be used as a meeting room
Three small bach-style houses (Champion, Keane, and Goodwin cottages) with period rooms and photo exhibits
A working, manually-operated telephone exchange
The original Waiheke jail
Being developed: The Taonga Heritage Gardens
Maori artifacts, a wool press, a whale-oil cauldron, a player piano, and even a fine old long-drop toilet! (No, not in actual use; we have modern ones for visitors.)
The Museum is located at 165 Onetangi Straight, Waiheke Island, and is open from 11 AM to 3 PM on Wednesdays, Saturdays, Sundays, and public holiday Mondays, all year round (except Christmas Day and New Year's Day). Entry is by donation; we suggest $3 per person.
---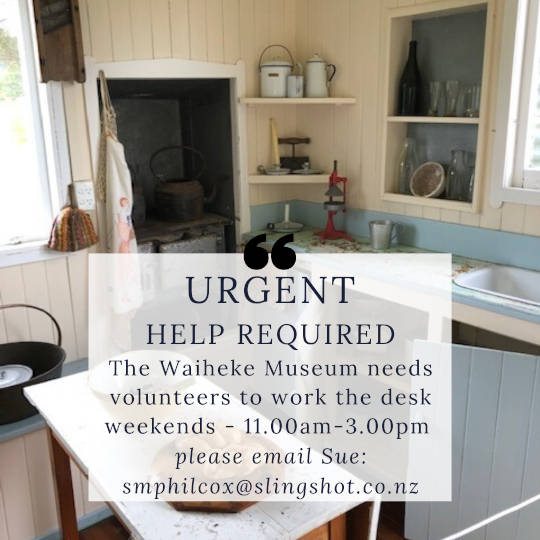 ---
Take a tour of the Museum buildings
The aerial view below is courtesy of Google Maps. Click on any building for more information.