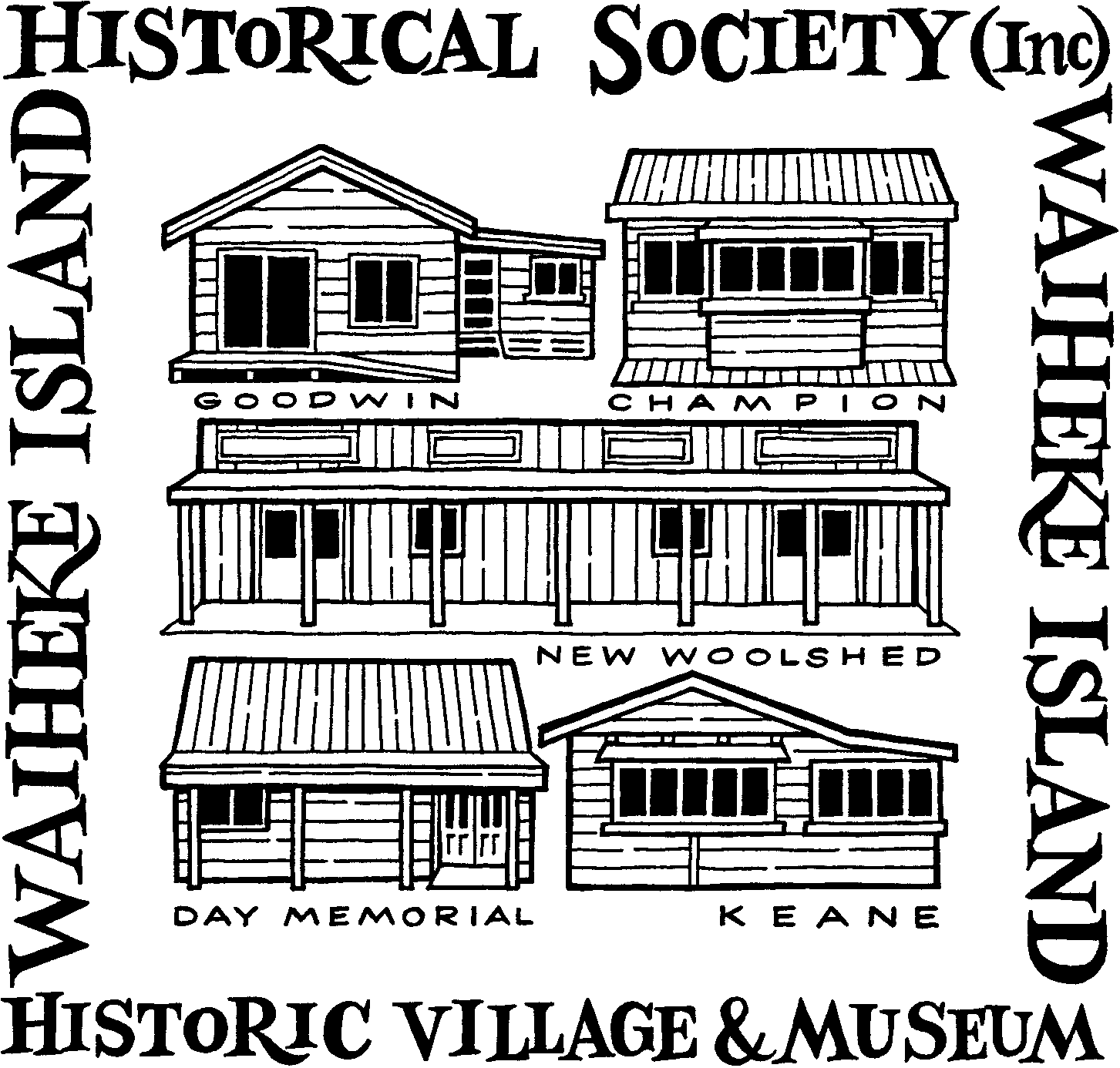 Minutes of the Waiheke Historical Society Incorporated
Annual General Meeting 7 April 2019
The meeting commenced at 2.00 pm.
Apologies: Christine Hoffman, Christine Hoffman, Marnie Fabian, Dorothy Malan, Merle Mason, Priscilla Tobin and Mark James
Present: Katrina Stamp, Jeanette Norwood, Mary Batten, Rosemary Burns, Jill Pain, Deborah Pain, Kit Nelson, Margaret Milligan, Don Baillie, Sue Philcox, Jan Vail, Juliet Hay, Alison Hunt, Sam Shirley, Anna and Paul McSherry
Minutes of the last Annual General Meeting were read to the members.
It was moved by Margaret Milligan and seconded by Don Baillie that the Minutes of the last AGM be accepted. Carried.
President's Report (summarised)
It is a great pleasure to welcome you here today; your support of our Museum is very much appreciated, so on behalf of Committee, volunteers and myself, thank you for attending our AGM.
Usually it is not until one is older that one appreciates the value of a Museum in one's community so to have younger people interested is a real bonus for us, as there is only so much we can do without the younger ones coming on board to keep our heritage alive. We value new blood and new ideas.
Our team of volunteers have worked hard this year, bringing together a successful Live Heritage Day which will be repeated. Alison and Juliet designed flyers which have been placed in tourist spots, together with a calendar and bookmarks, both bringing in extra funding. Many thanks to you both.
Through generous funding from Foundation North and our Local Board, we have painted Goodwin Cottage, and created two new concrete paths. We hope to add more paths as funding becomes available, as well as the painting of our other cottages. A big thank you to Juliet who applied for this valuable funding.
AIMS have also placed us on their rounds so now they are mowing our lawns, plus doing some of the heavier gardening. This is very much appreciated by us all.
We are lucky enough to have some keen gardeners who have taken pride in the Museum grounds. So thank you to Margaret, Priscilla, Jan and others who pitch in.
Three of our cottages received a much needed spring clean by Angie Melville's wonderful team and then were revamped by two volunteers. It is hoped if we have enough volunteers we will be able to keep the cottages looking fresh so their time and effort doesn't go to waste. Thank you Suzy and Chris.
We have our A team who are here every Wednesday recording our history; this is a big job but one they seem to enjoy, so many thanks to Elsie, Ted, Elaine and Trish.
Mary Batten also has been keeping scrapbooks of current affairs from local papers which are stored in our archives with the currents ones behind our front desk for viewing. Thank you Mary.
Our new secretary Alison has been recording our meetings and setting out our jobs for follow-ups. This has been great and keeps us focused, but she is also still transcribing our tapes of Waiheke memories that have been stored away. These may well be turned into a book. So thank you Alison; your work is very much appreciated as well.
Our other very special person to thank is Jan; Jan is our Treasurer but in the past has also combined this duty with that of secretary, just to name two roles. Jan has been on the Museum committee now for ten years.
I ask that we applaud Jan and the others as they are the ones who have kept our Museum running.
Volunteers - it has been rewarding to have some men come forward donating their time and efforts. One has been restoring some of our items so they can be shown and used by people at our live demos. The children especially have lined up to use the old push mowers and having a touch table has given people a more interactive experience with the Museum, providing them with a greater appreciation of how life used to be.
One of our leaking roofs has been fixed, guttering cleaned, shelving erected, a hand rail built at each cottage, plus we have had new store room doors made after an attempted break in.
Then of course there are Don and my husband who help me with other maintenance work. A big thank you to all.
If we didn't have volunteers your Museum could not stay open. If you think you can help please come and speak to any of the committee members because we are bound to have something that you could assist with. As always new volunteers are needed to keep our heritage alive; without them this place will fold.
Goals for the coming year –
To revamp the main museum which will include extending our Maori history. I have had notification that Chris Bailey and some students will in the near future be arranging to do this.

Having another Live Heritage day

Painting another cottage

Adding another concrete path or two

But mainly to get more volunteers so two people can do a split shift or work the four hours together on the Saturday and Sunday, usually once a month.
It was moved by Sue Philcox and seconded by Jan Vail that the President's Report be accepted. Carried.
Treasurer's Report (summarised) to the year ended 31 December 2018 was presented by Jan Vail.
Financially, the Society is in a sound position. Our income from donations was again higher than the previous year due to increased visitor numbers. Subscription income was lower than the previous year due to the loss of some members. We received grants from the Waiheke Local Board of $1725 to put in a new concrete path from the car park to the central pathway and from Foundation North of $11,900 to repaint Goodwin Cottage.
We operated a water station again for the Wharf to Wharf Fun Run receiving $250 from the W2W committee to add to our general funds. As Sue has already mentioned, we held a very successful live heritage day at Labour weekend where we charged stall holders $20 each to sell their products. This amounted to a further $160 in income. Two of our committee members organised the printing of desk calendars and book marks in time to sell at the heritage day and up to Christmas almost 80 calendars had sold at $10 each and this is included in the sales income.
General expenditure was slightly more than the previous year. Power, insurance and telephone remained constant. Shop purchases increased due to printing costs for the calendars and book marks and advertising increased due to the cost of fliers and poster printing. After adjustments for non-cash expenditure, there was an operating profit of $4,015 for the year.
Visitor numbers totalled 4,325, slightly more than the 4155 visitors in 2017, and this increase was mostly due to visitors using the Explorer tour buses throughout the year. The Museum and Historic Village is included in the Explorer leaflet (at no cost to us) as an island attraction and is promoted by the on board host/hostess as a place to visit. This resulted in an increase in visitors' donations, again more than the amount received in the previous year. Numbers of visitors averaged out at approximately 83 each week for the year.
As a voluntary organisation, the Society is dependent on your membership fees and donations. Thank you.
It was moved by Jan Vail and seconded by Sue Philcox that the Treasurer's Report be accepted. Carried.
Nominations for the Committee & the election of officers.
Sue Philcox was nominated for President
Mark James was nominated for Vice President
Jan Vail was nominated as Treasurer
Alison Hunt was nominated as Secretary
Margaret Milligan, Juliet Hay, Rosemary Burns, Sam Shirley and Don Baillie and were nominated for the Committee.
It was moved by Sue Philcox and seconded by Jan Vail that the above committee members be accepted. Carried.
General business:
1) Maori Display at the Museum - Huhana Davis has agreed to revamp and expand the Maori display with helpers from the Marae. Chris Baillie is going to come with students – we need a history of when the Maori originally came to the island. This information may be available in the Milestones leaflet by Paul Monin.
2) Clean out the store room - Sam Shirley will be assisting with this and also with refreshing the main Museum
3) Meet and Greet - Sunday 28 April 2019 at 2.00 pm - an invitation will be extended to members and volunteers for afternoon tea. Juliet to place in the local press and Alison to follow up members and volunteers by email.
4) Name Tags - Don suggested we have some name tags printed for volunteers on the desk – Christian names only. Jan will look at printing some off.
5) Publication of transcriptions – Alison mentioned that in time we may wish to make a book out of these transcripts but that there are legalities surrounding family permission before publication. Katrina suggested Alison contact the oral history section of the National Library (044623977) to ask their advice.
The meeting was officially closed at 2.41pm, followed by afternoon tea.
Alison Hunt – Secretary – 11 April 2019